My baby boy is turning 7 in 2 weeks and he wants an ice cream bombe for his birthday cake, so I thought I would re-post this how-to from last June. New post this Sunday. Promise.
I made a chocolate and vanilla ice cream bombe (bombe glacée) for Big E's 11th birthday last month [last year]. This is a simple and delicious dessert that requires no special pan.
You will need:
2 cartons of ice cream (I used chocolate and vanilla)
1 package of Oreos
1 cup heavy cream
1 cup powdered sugar
1 tsp. vanilla
A large bowl
Plastic wrap
Take out the first carton of ice cream to soften. This will be the top layer of your finished bombe. I used chocolate.
Line your bowl with plastic wrap, both ways (top-to-bottom and side-to-side). This is your mold. Leave enough wrap hanging over to wrap the finished bombe.
Put your ice cream into your stand mixer and mix it with the paddle attachment to give it a smooth, spreadable consistency. This step is optional, but it does make the spreading easier.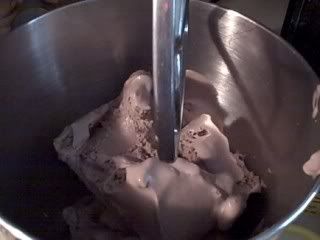 Spread the ice cream into the mold, creating a bowl shape. Leave a space at the top.
Place one row of Oreos into a food processor and pulse into crumbs. Spread crumbs over the entire chocolate ice cream layer.
Put your bowl into the freezer to set the layer. It does not need to be totally hard, just hard enough to withstand putting on the second layer.
Prior to talking the bombe out of the freezer, take out the vanilla ice cream (or other second flavor) and let it soften. Then put it in the mixer, as you did with the chocolate.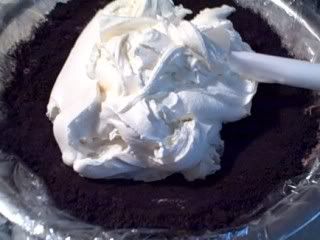 Spread the vanilla ice cream so it is flat in the mold, leaving room for the final layer of crumbs.
Process another row of Oreos and press the crumbs into the top of the bombe. Cover with the over-hanging plastic wrap and put in the freezer until fully hardened.
Before removing the bombe from the freezer, make the whipped cream icing by whipping the cream, powdered sugar, and vanilla until a stiff, spreadable consistency.
Dip the bottom of the bowl in hot water to loosen the bombe and invert it onto a plate or pizza pan lined with a parchment circle. (Put the plate upside down onto the bowl, then flip the whole thing.)
Frost the entire bombe with the whipped cream icing. Freeze again to set the frosting. If you don't plan to eat it right away, you can cover it with wrap after the icing is frozen.
Your bombe is now ready to eat!
Yum!