I realized the other day that I take lots of pictures of the stuff I make, but almost none of my children.  I'm going to have to work on that.
Anyway, here are some of the things I made for Easter.  (Better late than never, right?)
I made this cute little bunny plush for my sister using the free embroidery pattern from Orange You Lucky.  I embroidered the pattern onto white felt, then stitched it together with another piece of felt, leaving a small opening through which to stuff it.  I sewed the opening closed and cut away the felt, leaving a small, even seam allowance.  I ended up ripping out part of the stitching and redoing it in order to get it so symmetrical.
I frosted my Carrot Cake to look like an Easter egg, with Cream Cheese Frosting, of course.  In order to save time, instead of piping each color, I mixed small amounts of frosting in different colors and spread them on with my offset spattula.  Then, I piped the plain white frosting in between the stripes and around the border to give the cake a finished look.
This cake has become an Easter tradition in my home.  I make the Angel Lush cake from kraftfoods.com, using a yellow cake, instead of angel food.  I also use regular vanilla pudding (not fat free sugar free) and substitute real whipped cream for the cool whip.  The cake is topped with whipped cream and fresh strawberries.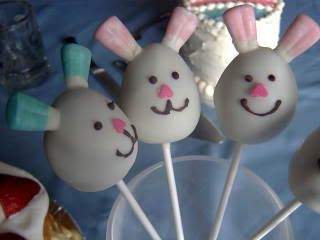 Last, but not least, are these adorable Easter Bunny cake pops by Bakerella.  Mine are no where near as cute as hers, but the kids loved them.  (Yes, the noses are on upside down.)
I also made homemade Easter baskets using brown paper lunch bags and construction paper, but for some reason I didn't take any pictures.  I thought I had.
Even though I have no pictures of any people, everyone had a wonderful Easter.
Except for this guy.